skinnydipinacid
|
Thursday, November 8, 2012 at 11:23
in
2012 Election
|
102 Comments
(skip to most recent comments already)
I will say I do feel better today, not being all hung over... Keg beer will kill ya'.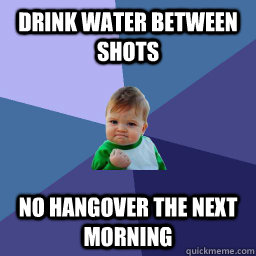 Now comes the time Washington wakes up from the same hangover and works on something they've failed to do for far too long... getting things done.
No more Bush's fault, no more "obstruction" cries... hone in on the problems and focus on fixing them. As voters it is our responsibility to hold our leaders accountable. If you can't do the work that needs to be done, we throw you all out. If you can't work together, we can't just throw out one party, we need to start throwing out everybody that is unwilling to change Washington's financial bottom-line for the better.
We say this as if that's the way things are supposed to work, but given our recent history... I don't think either side truly means it. Please, TELL ME I'm wrong. I actaully want you to steer me away from this thinking and out of this funk of negativitiy. Deep down inside I'm really a positive person.
However we have a problem in our nation. We have establishment GOP-types and Democrats that are unwilling to do what really needs to be done because they want everything done their way or not at all. They feel that finding a middle ground means that only the other guy/gal defies their will and does everything THEY want instead. They assume their desires are the only thing that is best and that finding the best solution only means convincing (or forcing, or bribing, etc) the other side into doing things their way. Reid won't acknowledge Republican bills on the Senate floor (he even admitted prior to the election he would not work with Republicans). Mitch McConnell isn't much better. John Boehner has been ineffective as a leader in the House while Nancy Pelosi has been... well, it's Nancy Pelosi... you get the idea.
This doesn't just happen between parties, it happens amongst the parties as well. There are great Republicans and there are great Democrats that see our country's failures for what they are, but neither of the parties are willing to tackle the true issues that are destined to destroy this country, so the problems remain unchanged. Even the most powerful man America admits an inability to change Washington, and that's perfectly acceptable.
"We understand, it's hard... you have my vote." ::pat on the back::
When we win, everything is great, life is awesome. When we lose, it's miserable... awful... we're screwed! Then we go about our business as if nothing has changed, primarily because nothing HAS changed.
Change begins at the local levels, not at the national level. We see great candidates snubbed out before their political careers even get a start because they are the ones willing to pull off those loose strings fraying the party and that scares the living crap out both parties. They are passed over for "more ideal" candidates that will enforce the positions of those who got them there. Those politicians then cater to those who feed them their orders. All the way up the food chain until there is only the most powerful in those two parties calling every shot and then we sit back and choose between the lesser of two evils (as those "evils" flatten out and remain unchanged in their principals time and time again).
The biggest thing Washington has lacked however is accountability. We vote straight down the party ticket because we're unwilling to consider the other argument or intellect. We hold nobody in power to blame if they bear the same (R) or (D) after their names as ours. We vote only for our needs and now apparently our wants too. Parties can now win an entire election with passing a budget while our spending is completely out of control. Our children can owe a debt they don't even fathom and we can look them right in the eyes and tell them how great our leadership is. Some of them can't even count the number of 0's behind the 16... some of their parents can't either.
It's like I tell my kids when they've been playing all day but there's chores that need to be done.... it's time to put the toys away, time to quit playing games, time to stop acting like fools... we need to get some work done. It is then my responsibility as a parent to check in on them from time to time to see if they're REALLY cleaning up, or if they're still just screwing off again, only quieter or behind closed doors. Washington has been doing nothing but screwing off and we have failed as its parents.
We as a nation have been playing political games for years now and if we can't stop long enough to get this country on the right track NOW (not in 2 years, or after the next presidential election) everyone who wasn't out there fighting for real change needs to be held accountable and then thrown out of office, no matter what party they represent. Obama needs to somehow learn how to "change Washington from the inside" or we are dead as a nation. Washington has been broken for some time now, if he can't fix it he'd better find somebody with a bigger wrench.. and he'd better find ithem fast.
To me Obama's never really come off as great leader, not even of his own party, so I don't expect much change to occur if at all (and if it does, that's not to say it will be for the better). That may be what makes it so hard to distinguish him as the leader of the free world. To do so he needs to really lead, not just be dragged behind the Democrat heads and base then shoved in front of a camera and mic (and teleprompter) to promote their agenda; Strategized moves based on data drummed up by dorks behind desks looking out for only what's best for their next election and favorability ratings, not the country. We also need a media that's willing to scrutinize this president the same way they did Bush at every turn. Nobody's perfect, but if you asked a Democrat loving media figure, they'll try to convince you Obama really is... perfect.
We've done nothing for 4 years to better our economy. In fact many of the things we have done to "improve" it have actually worsened it. Small businesses have suffered, but what's scared them most is the coming year and the Obama policies that await us.
(Speaking of small business... I have one to run and really need to get back to work... So we'll follow this up with another thread next week... to be continued...)