skinnydipinacid
|
Wednesday, March 16, 2016 at 19:15
|
164 Comments
It looks like a fat slab of reality hit Rubio upside the head yesterday in the form of a double-digit defeat in his home state of Florida, prompting him to call it quits on his bid for President, but not before giving one hell of a concession speach. If he's lukcy his decision to stick it through Florida won't destroy his political future. He's young and talented, but his naivety tends to guide him towards his establishment buddies that fill his head with really bad advice... like staying in the race as long as he did, amongst other things. I can only guess how many of those same advisors told Mitt Romney to take it easier on Obama in 2012.
Kasich however hasn't quite warmed up to common sense. He's determined to stick it out to the end with hopes of securing the nomination, something Glenn Beck today called "delusional", but I disagree... it's not delusional, it's purposeful. Does he really believe what he says or is he just saying what needs to be said to justify this insistence of staying in the race? If he drops out now it opens up the possibilty of two things the GOP hates to think about before bedtime: Trump and/or Cruz securing enough delegates to secure the Republican Party nomination before the convention (which I hear should be a hoot).
Few people seem to recall (partly due to the short-term memories & lack of knowledge that thrives in American voters) but Kasich began the debates as the GOP-establishment flamethrower, attacking candidates at the very onset, interrupting everybody to talk about himself and flailing his arms like an unseasoned buffoon (cue the Karate Kid Kasich reference).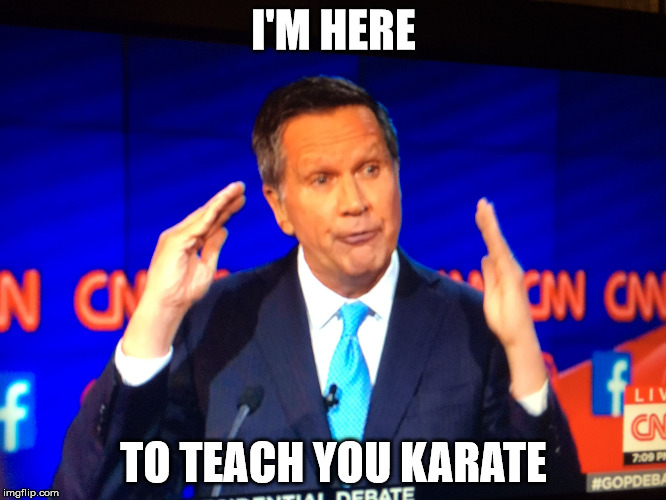 He is the only candidate in the race that managed to make Donald Trump once look tame.
However now we're being told (constantly might I add) that he's not the attack-type, "because people are getting sick and tired of this angry talk", and really just a level-headed, soft-spoken moderate that gets along with every stinkin' Democrat from here to the hooka bar. Sure, it's all complete and utter bullshit, and many (especially the establishment... who are probably cheering him on and encouraging him to stay in the race) know he was never a viable candidate to begin with. Now suddenly he's their only hope. Irony.
"My numbers are going up" he says… well, duh. Everybody else has dropped out except you and two others. Of course you're numbers have gone up. That's how divison works. But hey, keep thinking it's because of your ever-changing message and not due to the party's decreased options.
(Hmmm... maybe he is delusional after all)
His staying in the race of course leaves the following possibilities:
a) He prevents Cruz from securing the most delegates
b) He prevents Trump from securing ENOUGH delegate
c) He allows an opportunity for the GOP to pick their own candidate
d) He leads to the end of the Republican Party, because if stolen, people will flee the party for a less crooked alternative (like myself, a county/district/state delegate and Cruz supporter).
If the GOP tries what I fear they will it'll be suicide for the Republican Party.
Cue the 3rd party talk.
Okay, listen up my fellow/possible party defectors: You might be even dumber than the GOP guys secretly talking about sabataging the party for the candidate of your choice... WAIT, no, I take that back... THAT of course was pretty much BEYOND stupid, but still ...how is this plan any different that what the GOP is (likely) planning? Unless you can secure a SIGNIFANT amount of votes (which you likely wont) all you'll be doing is taking away probable Republican votes to support your little protest-candidate, in turn guaranteeing a win for Mrs. You-Know-Who (D).
The even more ironic part of the story it that after all those anti-Trump Republicans that begged Trump to vow (and even sign a pledge) NOT to run as a 3rd party candidate months ago have now morphed into anti-Trump Republicans considering a 3rd party candidate to instead defeat him. In other words: sore losers.
Since I'm a sports-guy I can't help but think of a sports analogy to compare it to: It's as if it's the fourth quarter of the Super Bowl. We're in the lead and have all the momentum (have you not seen the number of Dem voters compared to that of Rep voters this cycle?) and all we have to do is play the rest of the game smart and close it out, but instead of playing it smart we have the power-hungry coach, a rouge offensive coordinator, 2 star running backs and the quarterback going off 3 entirely different playbooks. The coach is hoping they'll fumble the ball and make a game out of it. The coordinator is calling for hail mary's just because "hey, the last thing we want is a fumble right now". Meanwhile the QB (that's us by the way) just wants to hand the ball off to one of our two star running backs and let him run the ball right up the middle of the opposing teams weak and tired defense.
Oh... and we have a water boy on the sidelines practicing karate.
I mean, c'mon guys... we're talking about running against the woman who JUST said we didn't lose any lives in Libya. Libya! Apparently she hasn't seen that movie. They're tripping themselves (while running away from Inspector Generals) and all we're doing is trying to trip harder and faster.
I get it... Trump is not my candidate either (I'm 100% in the tank for Cruz), but if you think giving away the next election to Hilary Clinton is going to draw anybody to your political alternative you have another thing coming. I'll vote for Trump in a New York minute if given that choice combined with possible consequences. Do you really want to become the individuals responsible for the Supreme Court shifting radically left and doing more irrepairable damage that even Obama himself couldn't have dreamed up on his own.
Conservative politicians have toppled the GOP establishment time and time again. Heck, I watch us do it in Iowa (before watching it squandered by fellow Libertarians). We've seen candidates like Ted Cruz, Dave Brat, Mike Lee, Matt Bevin, etc... take on the GOP and win, as REPUBLICANS. It's what truly makes us the bigger tent party, unlike the other party that considers themselves more diverse just because of their wide array of left-wing social justice warriors.
How about instead of a Republican death march you focus on how popular the Republican Party is getting this cycle. Like football, politics is a game of inches. Small gains now open up the possibility for bigger gains down as time progresses.